Community College System of New Hampshire
NHSGC Affiliate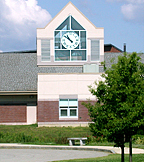 Connecting NH Colleges and Universities
Recognizing the need to make the pathway to earning a college degree as simple as possible, the University System of NH (USNH) and the Community College System of NH (CCSNH) have partnered to launch www.nhtransfer.org, an online resource indicating which courses transfer among participating institutions.
Recruitment and Scholarship is the NHSGC focus at Community College System of New Hampshire. We are interested in students studying fields relevant to NASA, with special focus on women and groups underrepresented in these fields. NASA support is used to launch a challenge grant to increase program resources.
NH Space Grant Funds are used to leverage matching funds from industry and private sources through a matching grants campaign. Scholarships are used to encourage enrollment and to enhance success and retention of disadvantaged and underrepresented groups.
Campuses
New Hampshire's Community College System of New Hampshire serves over 24,000 students a year with seven colleges in 12 campuses throughtout NH. Ninty-nine percent of NH residents live within 25 miles of a NH community college campus.
CCSNH eStart
NH High School Juniors and Seniors can take online courses for high school and college credit through the Community College System of NH's eStart program.